Saundra Bishop, MS, BCBA—
Owner, Founder, and Lead Clinician
Saundra Bishop is the founder and Lead Clinician of B.A.S.I.C.S. ABA Therapy, LLC. She has over 15 years of experience working in Applied Behavior Analysis and with people with Autism/Autistic people. She has extensive experience working in group homes, schools, and client homes. She has worked with clients ages 18 months to 65 years old in all settings. She is especially passionate about Trauma-Informed Behavior Management and a practice that focuses on Self Advocacy over Compliance. Saundra is a Certified Clinical Trauma Professional and Certified Level 1 PRT method of ABA practitioner. She is also certified to give trainings that qualify for Type-2 CEUs, DCPS CEUS, and CFSA foster parent hours. In her free time she parents 4 kiddos with an without special needs and is a foster parent. She also trains Capoeira and enjoys hiking.
DeVita love, M.Ed; Ed.S, BCBA
Devita is a certified School Psychologist in the District of Columbia. She has worked with clients from infants to young adults for over nine years. She has a passion for working with students of varying ethnicities and cultures. Her research interests include increasing the language capacity of bilingual students and building academic skills utilizing behavior analytic techniques. DeVita is the proud mom to two rescue dogs. DeVita is a therapist supervisor.
Hung-Tien Nguyen, Behavior Analyst, BCBA-L
Tien has a master's degree in Psychology with a concentration in ABA. His strive to work in the medical field has led him to work with adults with disabilities. He also have over 5 years of experience working with children on the Autism Spectrum. Immigrating from a foreign country also gave Tien the appreciation for other cultures and perspective. He hopes to continue his passion to help people gain skills using ABA.
Adanna has volunteered at a therapeutic recreational program and is currently working with Beyond the BASICS Aftercare. In the future, Adanna aspires to become a social worker and ABA therapist. She is interested in in psychology and enjoys singing, dancing and modeling.
Amber has a Bachelor of Arts degree in Psychology and Art. She has previously worked as a caregiver with adults and children. In addition to caregiving she has interned with a child counselor, who specialized in Cognitive Behavioral Therapy and incorporated art and play therapy within her sessions. She has a passion to become a clinician to work with children and adults. Amber is from Brooklyn, NY who aspires to get her PhD as an Art Therapist and eventually open her own private practice as a clinician. She is an artist, who enjoys painting and sculpting.
Benjamin is a native of Philadelphia, and has recently relocated to DC. He has taught and trained elementary and middle school student's as an educator. Growing up he worked in a club / restaurant / hall, during which time he catered over 100 events. He has continued utilizing his culinary skill set by catering small events for friends and family as a personal chef. When time allows, you can find Benjamin dancing, bike riding, playing tennis and just socializing.
Daniel is from Charleston, SC and has two certifications – one in building maintenance and another in leading worship. Previously, he worked for a church youth program with children of all types of backgrounds and abilities. He also taught music and dance to young people at various summer recreational programs. He enjoys working with youth and helping others find success. His hobbies include extreme sports, dancing, teaching/playing music and building. His future goal is to own and operate a local dance studio for people of all ages, backgrounds and abilities.
Diamond has been in the education field for four years which has been a fulfilling experience thus far. She received her Master of Social Work with a concentration in Child and Family Welfare in 2014. Diamond has a strong passion for helping youth develop skills that will help them grow personally and professionally. She is excited to be on this journey with B.A.S.I.C.S.
Jaden has worked as an RBT in a clinic setting for over a year before joining the Beyond the BASICS Aftercare program. He has experience working with children from the age of two to sixteen in both group and one-on-one settings. Jaden is passionate about education and ABA.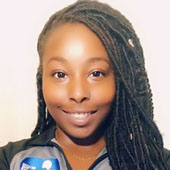 Jamila has a bachelor's degree in psychology. She has previously worked for therapeutic recreation programs, support programs for adults with special needs, and group homes for young adults with special needs. She was also the site supervisor for an after school program for at-risk youth. Jamila is the Site Director of Beyond the BASICS including before/after care and summer programming, and enrichment. She is from the DMV and her hobbies include photography, singing, dancing, and doing hair and makeup.
Kristen has a Registered Medical Assisting Certification from Fortis Institute. She grew up with younger siblings with special needs. Her motivation to do well comes from, not only, helping the children in her family but all those around her as well! She is from the DMV and her hobbies include singing, songwriting, poetry, and she definitely has a love for makeup! Currently Kristen is pursuing credentialing as a Registered Behavior Technician and hopes to become a BCBA in the future.
Lara is currently pursuing a masters in Psychology and RBT certification. In the long run, she strive to provide psychological services and implement effective interventions for children and adolescents of different needs- eventually branching out to underserved populations of the world. In her free time, she loves playing music, singing and spending time with loved ones.
L'Sandra (Sunny) Smith, BT
Sunny is currently working to obtain her bachelor's degree. She has previously worked for and volunteered for after school programs, summer camps, and support groups for youth since she was 14 years old. Also, she is a Teacher's Aide for special needs children. Her passion to help kids of different backgrounds and obstacles has been her motivation to do a great job. She is from Washington, DC and her hobbies are dancing and eating food. Her future aspiration is to become a children's counselor.
Mayronda has a MBBS degree. She has worked with visually impaired special needs children in a school setting. She has always had a passion for teaching, helping children navigate through life and being a role model. Mayronda is from PA and loves traveling abroad and exploring other cultures. She is currently pursuing her RBT credentialing.
Mia is a native Washingtonian and has earned a bachelor's degree in Special Education. She has been working in the field of Special Education as a Paraprofessional educator for grades K-12 for the past 10 years. She enjoys traveling and spending time with her family and thrives to make a difference in the community.
Nardlyn has a Bachelor's degree in Biology. She was worked at a group home for children and young adults with special needs at Renoxx Caregiver and with adolescents with trauma disorders and traumatized by life experiences or with autism spectrum disorder @ The Children Guild Helping children with special needs and traumatized children who needs the support and love are what drives her to do a good job. Her hobbies include doing hair and painting and has future aspirations in becoming a future helper.
Starletta earned a bachelor's degree in Human Development and Family Studies. Her passion for educating children with special needs inspired her to pursue a career in behavior therapy. She is a Texas native who has recently relocated to Maryland. She is excited to help children accomplish developmental goals.
Tammy has worked with children since she was a teenager. She has worked with children with Special Needs for over 6 years and loves it. She has been a Paraprofessional for Maryland and DC schools. She loves to mentor pre-teen girls. She loves going to parks, traveling,
Tanika is a native Washingtonian. She is inspired by a younger sibling that has autism. She is currently in school to earn degree in psychology. In her free time she loves to read and go shopping.
Tequila has a nursing background with 3 years experience with children. She is motivated by helping children succeed. She is from Maryland and loves to write. She is currently working on becoming a RBT and psychologist.
Tiara earned a bachelor's degree in communications. She is a DC native who enjoys working with children of all ages and needs. In her free time, she enjoys reading, traveling, and new adventures.
Wendy is fluent in Spanish and English. The first of 3 children, she relocated to Washington, D.C. in 2011 to pursue her career. She started her career in the medical field as a medical and dental assistant. Her number one passion and motivation has always been working with and helping children. In her spare time she loves activities with her family, hiking, rafting, working out at the gym and dancing with friends in Zumba class.
CONTROLLER
Christine works to ensure smooth operations by communicating regularly with insurance companies, management and our clients. Christine received her BS in Accounting and her BS in Finance. She loves spending time with her children.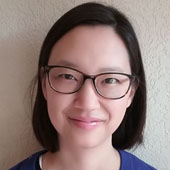 ASSISTANT CONTROLLER
Emily has over 7 years of experience in accounting and finance as both senior accountant and accounting supervisor, and also 4 years experience in banking. She is CPA certified (inactive) in the state of Washington and holds a BA in Business Administration- Accounting. She enjoys exploring Rock Creek Park with her husband and three young children.
HR and OPERATIONS DIRECTOR
Celia has a masters in Ethics, Peace, and Global Affairs with a concentration in human rights and gender. Previously she served on the board of a local non-profit working on maternal health policy advocacy. Celia has 10 years combined experience in administration, case management, contracting and government consultation. She is passionate about access to evidence-based, culturally sensitive healthcare services for women and children. She oversees HR, professional development, privacy and security, contracts and credentials and G Suite.
SCHEDULING MANAGER
Anthony has over 20 years of logistics experience. He spent 7 years as a Police 911 dispatcher, trainer and officer in charge, followed by 15 years in the private sector in scheduling and operations management. He is passionate about logistics and enabling others to do the best work they can. Originally from New York City, he fell in love with the DC area and enjoys everything it has to offer.
HR PROJECT COORDINATOR
Jen has over 15 years experience in different areas of the corporate world, including project management and operations management. She is also a martial arts instructor and enthusiast, with a passion for teaching Gracie Jiu-Jitsu for women's self-defense. She also loves to travel and spend time with her 2 daughters.
BILLING SPECIALIST
Allison supports our Controller and Assistant Controller with all tasks related to Billing (insurance claims), Authorizations/Reporting (for ABA therapy) and Accounting/Finance (for the company). She has a degree in Respiratory Therapy and has over 10-years experience in the medical field. Her tasks are mostly "behind the scenes" and crucial to the daily operations and support of the company. She has a passion for helping others and has a can-do attitude. In her free time, she enjoys making memories with her family and friends.
ADMINISTRATIVE ASSISTANT
Brianna supports in the operations of Beyond the BASICS including before/after care and summer programming, and enrichment. She has a degree in Child Development and is currently working toward her Master's in Education. Originally from Texas, she moved to D.C. for AmeriCorps before beginning her career in education. She has worked with children in various capacities for about 8 years and loves finding ways to help children learn and express themselves effectively. In her free time, she enjoys reading, traveling, basketball, and practicing Capoeira